Irrigation for sport fields, golf courses and lawns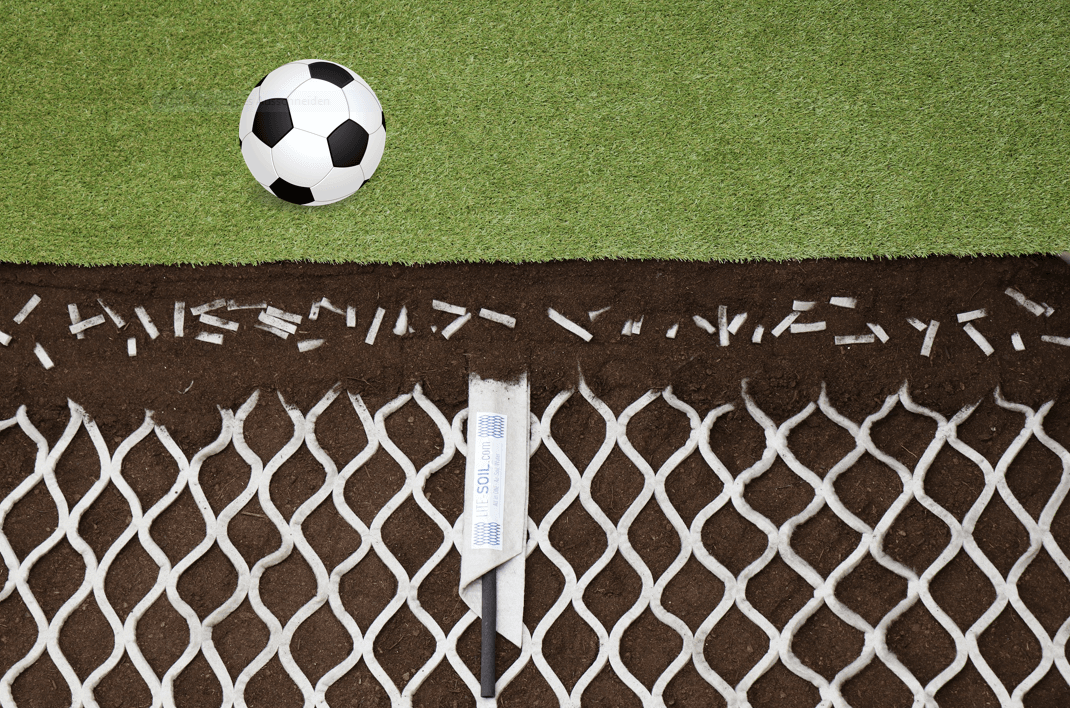 Lite-Strips – mainly as a water reservoir – as well as Lite-Nets – mainly for water distribution – are used for optimized persistent vegetation in these places. They consist of environmentally friendly, high-strength and rot-proof geotextiles/nonwovens made of long-lasting polypropylene or biologically degradable raw material such as wood fiber. As these nonwovens contain up to approx. 90% open and interconnected voids, they can drain air and water very well on the one hand and additionally serve as a water reservoir.
Both versions can be mixed 3-dimensionally into the top soil layer which is approx. 30 cm.
Our BlueLite-Net underground irrigation system has been developed for underground irrigation to safe both water and money. At certain spots It can be lifted up to the surface where it takes in rain water in order to distribute it then underground at root level or to build an intermediate reservoir. BlueLite-Net consists of an irrigation pipe * 1 with a non-woven covering *2 placed along it which feeds the water into a nonwoven distribution net (Lite-Net) *3 which spreads water extensively and consistently at the root level (fig. 1). Additionally, Lite-Strips *4 can be mixed into the soil. Underground irrigation blocks evaporation, felting and surface waterlogged soil. As a result, irrigation is possible at any time and non-stop, even when the area is in use.  A robotic lawn mower can also be used during irrigation. Due to the openand flexible design of the net, there is no barrier effect whatsoever. In other words, plant roots may easily grow through the net and anchor themselves around the net. Therefore 100% of the water retained in the nonwoven is accessible to the plants (up to 10l/ m² depending on the application).
The nonwoven BlueLite-Net can be placed in soil at any depth to best meet plant needs. This includes placing BlueLite-Net in many formations or layers (fig. 2+3).
The result: a wide variety of plants are provided with the air and moisture they need to grow and thrive.
Key Advantages:
Extensive distribution of water without evaporation
Simple installation at any soil depth
Cost-effective and long-lasting
Retains water without restricting roots
Reduced water consumption up to 70%
Advantages:
Large area water distribution without evaporation
Easy installation at any floor depth
Cost-effective and durable
Rootable water storage
Water savings of up to 70
Project Serbia: BLUELITE-NET for lawns
Project Austria: LITE-NET and LITE-STRIPS for football pitch
Project Serbia: BLUELITE-NET for lawn greening
Project Serbia: BLUELITE-NET for lawn greening
Project Greece, golf cours
In March 2019, our Lite-Net was used on a golf course in Greece in dry and therefore non-landscaped areas in order to sustainably green the golf field.
Project Vienna: Lite-Net for lawns
In August 2018, our Lite-Net was installed for the city of Vienna in the 7th district, Josef Strauss Park. The installation was carried out by the company Grünwert in Vienna.
Project Italy: Lite-Strips for lawns
Project Arona, Italy: Lite-Net for lawns
Dieser Beitrag ist auch verfügbar auf: German Italian French Spanish Greek