The most frequently asked questions about Lite-Soil products and their applications.
No matter if you're a hobby gardener or a professional – the sheer amount of information out there about water and air storing products, their advantages and disadvantages for plant growth, and how to use them, can be quite confusing. The search for the ideal product turns out to be a real challenge.
In order to make your decision easier, we have collected the most frequently asked questions about our products:
Lite-Drains: What is so unique about them?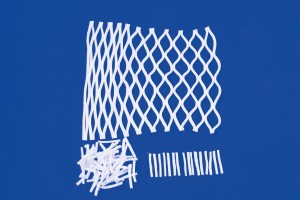 When integrated in the ground the 3 dimensional Lite-Drains improve the distribution of air and water in the soil, thereby increasing its stability and providing it with better and persistent vegetation.
Lite-Drains are strips (Lite-Strip) and nets (Lite-Net) cut from thick nonwoven geotextiles or drainage mats. They consist of environmentally friendly, high-strength and rot-proof geotextiles/nonwovens made of long-lasting polypropylene or biologically degradable raw material such as wood fiber or PLA. As these nonwovens contain up to approx. 90% open and interconnected voids, they can drain air and water very well on the one hand and additionally serve as a water reservoir thus fully disposable for the plants.
The open strip or net structure allows the roots to penetrate the mixture with soil, thus Lite-Drains can be installed at any required depth.
Unlike other conventional products Lite-Drains are both air and water storing products and result in better 3-dimensional distribution of water and air in the soil layer. They have a water balance effect: with dry ground they are water storing and with wet ground water draining. Lite-Drains store significantly more water than comparable competing products (e.g. LECA). This has been clearly proved by tests carried out by the University of Natural Resources and Life Sciences Vienna (BOKU).
New application possibilities and immense advantages arise from their new, patented design (strips or nets) placed in the soil:
+ Excellent water storage capacity
+ High water transmissivity/drainage capacity
+ Optimal soil aeration
+ Sustainable greening effect
+ Cost-effective
+ Simple installation
+ Installation at any required depth possible
+ Three dimensional installation ossible
+ High flexibility
+ Light weight
+ Erosion protection
+ Particularly most suitable for challenging terrain such as erosion, drought, deserts, silting and slopes
What is new about Lite-Drain?
Lite-Drains are made of materials with many years of proven performance in a completely new design. The used retentive nonwovens are adjusted to the soil structure. As they are available as a net or as strips they do not form a barrier anymore for roots and worms. As a result Lite-Drains can be installed at any level e.g. at root level and are therefore perfectly adjusted to the plants.
What are the applications?
Aeration
Aeration of tree roots
Slopes
Burials
Green roofs
Disposal sites
Erosion control
Roads and pavements
Cemetery planting
Filter basins
Soccer fields
Horticulture and landscaping
Golf courses
Raised planting beds
Sunbathing areas
Side roads
Parking areas
Sewage treatment plants
Planting boxes
Plantations
Green pavers
Green lawns
Riding arenas
Lawn turfs
Green sports grounds
Ski slopes
Barrages
Road and railway embankments
Bank protection
Vegetation and bearing layer
Places for events
Seepage reservoirs
Infiltration of rain water
Viticulture
Greening of deserts
How much water do Lite-Drains store?
As the roots can dock from each side, the entire water stored in the Lite-Drains is disposable for the plants.
Lite-Drains consist up to 90% of open voids and only around 10 -15% of solid material. The voids –according to their size – save up to 10 l/m² of water. When pulling apart the Lite-Net e.g. up to its tripled size, the storage volume spreads accordingly.
Do Lite-Drains contribute to saving water?
Yes, by discharging water quickly into the soil and spreading it there extensively, significantly less water evaporates at the surface.
Why are Lite-Drains thicker than standard nonwovens?
Nonwovens which are usually used in earth construction are 1.5 to 2mm. If fine particles of the soil with a nonwoven of 1.5mm penetrate at each side up to e.g. 0.5mm, only a minimum core of 0.5 mm stays open, which is 33%.
Lite-Drains however are between 3 and 10mm. If fine particles of the soil with 10mm Lite-Drains penetrate at each side up to 0.5 mm, only a core of 9mm stays open, which is 90%. Accordingly Lite-Drains have the capacity of retaining and draining disproportionately more air and water than common, thin nonwovens.
As the retentive nonwovens in use approx. 80-90% consist of interconnected voids, a core of 9mm corresponds to an open tube of 8mm (or to a hose of an outer diameter of 10-12mm). Accordingly the water storage capacity of Lite-Drain-Strips of 10mm size corresponds approx. to a hose of a diameter of 10mm.
What depth is required for installing Lite-Drains?
Lite-Drains can be installed in the soil at any required depth – perfectly adjusted to the relevant plants and either in undulating or multilayer design.
Can Lite-Drains over time be compressed in a way that they do not work anymore?
Long-term studies have demonstrated that the geotextiles made of polypropylene perform their role in the long run. They are only slightly compressed in the ground. The size of the voids is also adjusted to difficult soil conditions, so that fine particles cannot block the voids in the inner part of the non-woven.
Are Lite-Drains durable?
According to customer's needs Lite-Drains may either consist of extremely durable polypropylene fibres or of biologically degradable natural fibres. The polypropylene version has a long lasting effect in the soil.
If you want to disconnect Lite-Strips and soil a coarse strainer may be used. The Lite-Net can be easily removed from the soil.
How can Lite-Drains be used 3-dimensionally?
Lite-Strips are mixed into a soil layer of approx. 30 cm. Lite-Strips do not only retain water but also improve the transmissivity of water in the whole soil layer.
Lite-Nets transmit water in a better way, e.g. they can be placed on irregular ground and covered by soil. In some places they may be lifted upwards through the still non-compacted earth by hooks. They absorb air and water and distribute it within the net in the underground and 3-dimensionally.
What is Lite-Strip?
Lite-Drain Strips mainly act as a water reservoir. For this purpose the thick nonwoven strips are mixed into the soil. Up to 90% of the nonwoven volume can be filled with water thereby helping the plants to survive long drought periods.
With roof greening the high water absorption of the light nonwoven strips result in low weight compared to conventional materials such as expanded clay beads.
For aerating the lawns the strips are inserted vertically into the underground. Water and air from the surface are discharged in the subsoil. This process reduces the roots' felting so they grow at a deeper level. This innovative technology of aeration offers long-lasting benefits.
What is Lite-Net?
Lite-Drain Nets discharge water and air excellently and are therefore suited for aeration and irrigation of plant roots. The nets are easily covered with soil and in some places they may be lifted up to the surface.
There the Lite-Nets absorb air and water in order to spread it most quickly and extensively at root level.
For slope greening the net with its high water storing capacity is installed directly at the surface. The extremely flexible net adapts perfectly to the ground and therefore improves erosion control. The University of Natural Resources and Life Sciences Vienna found out that the vegetation effect of Lite-Net was approx. 50% higher in comparison to coir mats because of the significantly higher water storage capacity.
How are Lite-Drains delivered?
Lite-Nets are available pre-made or in roll form. The non-woven net can be easily cut by scissors or a knife from the roll.
Lite-Strips are delivered in small or big bags.
The nets delivered en bloc (e.g. 1.2 m width, 20 m length on roll) can be pulled apart to their multiple widths. The maximum width (e.g. 7.0 m) is specified in the data sheet each time, likewise the maximum surface (e.g. 80.6 m²) to be covered by the net. The maximum surface is not reached with the maximum width, but with a smaller width (e.g. 5.2 m).
What is BlueLite-Net?
BlueLite-Net for active subsurface irrigation is our latest innovation. Poor and irregular distribution of water with changing soil properties and the danger of blockage are the disadvantages of conventional underground irrigation hoses.
Standard extensive drainage mats suffer the disadvantage of impeding the deep growth of roots, so young roots are not sufficiently supplied with water, this means that additional and expensive irrigation from the surface is required in the initial phase.
The solution for these disadvantages is our BlueLite-Net, a combination of an irrigation hose with a non-woven strip placed along it and a water distributing textile drainage or irrigation net which is installed in the ground. The non-woven covering multiplies the water/soil contact surface area by a thousand. The water is transmitted from the irrigation hose via the non-woven strip -using the aid of capillary effect – into the irrigation net and from there extensively into the ground or to the plant roots.
The real innovation of our BlueLite-Net is the fact that the plant roots are irrigated in their initial phase. Thus dehydration is prevented and surface irrigation in the initial phase is not required any more. BlueLite-Net can be installed in the soil at any required depth – perfectly adjusted to the relevant plants and either in undulating or multilayer design. A plant mix is also possible now (plants at different root levels such as big trees, small-medium-big flowers, grasses etc.). Long-lasting vegetation is now guaranteed. 
Additionally, BlueLite-Net can also be used for draining the ground (e.g. at embankment walls or with tree pits). Water is collected from the net and is drained into a deeper drainage pipe using the aid of capillary effect.
The advantages in detail:
Extremely high effect on vegetation
Permanent, long-lasting vegetation
Roots may grow freely through the openings of the non-woven net
The stored water as a whole is disposable for the plants, as the roots can easily reach the bottom of the non-woven net
The roots can grow around the non-woven net and thus use it as an anchor which allows higher static stability
Living beings such as earthworms may easily pass through as well.
The non-woven nets may be installed at any level or even in a lopsided or undulating way
If the waves go up to the surface, the net can additionally collect rainwater there and distribute it fully into the subsurface. This also reduces felting on the surface.
The irrigation pipes can be placed at high points. If the non-woven net is installed in the soil at an incline of e.g. 3° from the irrigation pipes downwards, the water spreads even more extensively due to gravity.
When used at slopes or greened pitched roofs the non-woven net can improve the slope statically by using traction.
The non-woven net can be installed at lower levels than standard drainage mats, so plants can be irrigated during the initial phase
The air conductivity of the net allows better aeration of the underground
Additionally the BlueLite-Net can be used for draining the ground
Additional materials such as superaabsorber, wood ash, slow-release fertilisers, powder from mycorrhizal fungi, seeds, moisture meter, humus, algae powder can be incorporated in the non-woven net in order ot achieve an improved vegetation such as in desert-like areas.
Invisible irrigation by underground installation, no dammage possible, sports facilities, lawns, golf courses etc. can be in use during irrigation.
Cost-effective due to net structure (less material consumed), durability of the system, no maintenance costs, no additional surface irrigation required in the initial phase, water saving as a whole, low transportation costs due to less material, no surface irrigation required, no maintenance, water saving
What is the function of the non-woven protective tissue for BlueLite-Net?
The non-woven protective tissue for the irrigation pipe serves mulitple purposes:
Protection of the pipe orifices against ingrowing roots
Protection of the pipe orifices against fine soil obstructions
Lenghtwise water distribution along the irrigation pipe (important for soil mixes)
Contact between the irrigation pipe and the distibution net
Multiplies water/soil contact surface area by a thousand
Mechanical protection of the irrigation pipe
In case the irrigiation pipe breaks, it can be easily replaced in situ
At which depth should the irrigation pipe be installed for BlueLite-Net?
In principle it should be installed at root depth, in case of fine soils it can also be installed at a deeper level.
In case of a posterior use of soil preparation machines and tools, the irrigation pipe should be deployed below the operating depth.
What should the distance be between the irrigation pipes for BlueLite-Net?
The distance depends on the soil configuration and the intended use. In principle, the recommendation is 50 cm, although the distance can be increased in case of relatively impermeable soil or slope deployment.