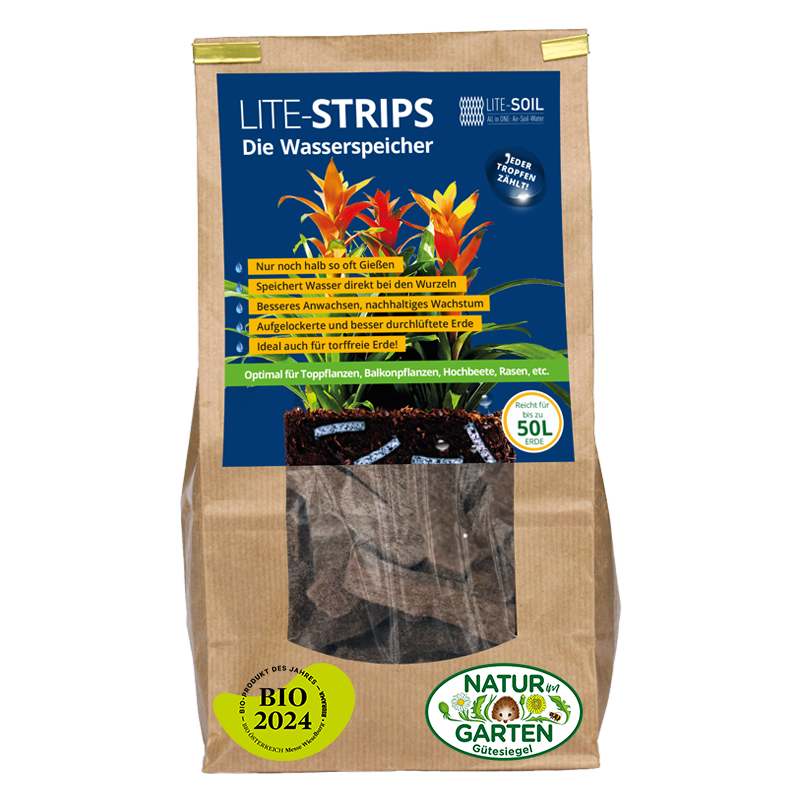 Our LITE-STRIPS Bio1 were nominated for "Organic Product of the Year 2024"!
Water only half as often with the 100% biodegradable water reservoirs.
Lite Strips – Bio 1 Felt Water Retention Strips
Climate change has long since arrived in the garden – and with it heat stress, drought and heavy rain. Some effects can be cushioned to some extent by using the patented and award-winning Lite Strips: brown cellulose strips that are buried in the ground and loosen it up, aerate it and store water before it completely rots away in a few years. Comparable products for use in gardens, parks and agriculture were previously only made from plastic. Now, for the first time, a natural material is available. One kilogram of Lite Strips Bio 1, which are simply buried with the roots when planting, stores 10 liters of water. When drought occurs, it is simply "accessed" via the roots. The possible uses are diverse, from green roofs to planting on embankments, in flower pots, raised beds, balcony troughs or for planting trees and bushes that grow better thanks to the water storage.