Extra light water storage
For green roofs, an important feature of LITE-STRIPS and LITE-NET comes to the fore: their very low weight. According to research conducted by the University of Natural Resources and Applied Life Sciences, Vienna (BOKU), LITE-STRIPS can absorb about 8 times more water per kg than conventional products (e.g. LECA).
Depending on the thickness, approx. 1-2 l/m² mixed into the substrate, LITE-STRIPS Bio5 and PP absorb water from the surface into the substrate and function permanently as additional water storage at root depth as well as a soil loosener.
By additionally laying the LITE-NET as a rootable water reservoir at root depth, large-scale underground irrigation including aeration can be carried out very easily.
The water is distributed over a large area in the net and directed exactly where it is needed. Thanks to the open and flexible shape of the net, roots can dock onto the non-woven net all around and thus extract 100% of the water stored in the net (up to 10 l/m² depending on the variant) if required.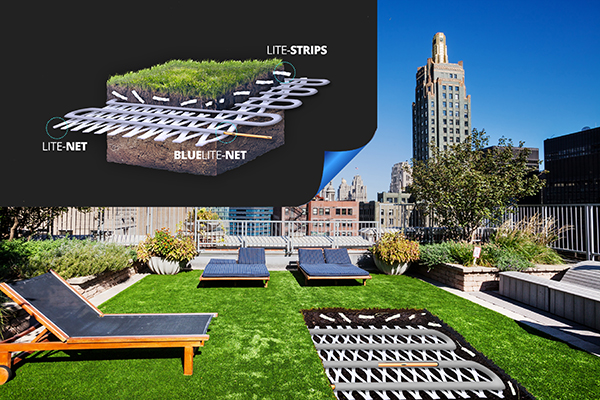 In addition to anchoring the roots of the individual plants, the LITE-NET can also be fixed to the subsoil, thereby preventing the so-called detachment of extensive greenery or the slipping of sloping roof greenery.
If the plant substrate is hydraulically pumped, the smaller LITE-CUBES can be premixed as an additional water reservoir.
In addition, with the cost-effective BLUELITE-NET system, evaporation-free underground irrigation is possible at any time and continuously, even when the roof terrace is in use.
Advantages:
Large area water distribution without evaporation
Easy installation at any depth
Cost-effective and durable
Rootable water storage
Water saving up to 70%