Aeration, irrigation, root and salt protection.
Due to climate change, we need more urban trees as "air conditioning". To fully develop their effect, trees must be large, old and protected. This can be achieved excellently with our products.
LITE-NET: Air & Water for healthy Trees
– Tender text: trees
– Tender text & technical data all products
The LITE-NET is an underground supply and distribution net for air and water.
In the function as a Vegetation Net 1, the pre-assembled LITE-NET is wrapped around the root ball. It absorbs water at the surface into their voluminous structure and conducts it efficiently and extensively to the roots, like veins. When these extract the stored water as needed, air is drawn in from the surface. Thus, they simply & cost-effectively replace the previously common pipe systems without buckling, clogging and stack effect.
The LITE-NET is also ideal for the deep drainage of rainwater: most rain events are not very extensive, so the water only remains in the upper layer of the soil, where root growth is thus enhanced. A LITE-NET, however, immediately absorbs the rainwater and directs it down to the deeper roots.
vegetation net are also the ideal underground system complement to irrigation bags and watering edges 2 . They reduce water consumption considerably by transporting water directly to the tree roots without evaporation. Watering intervals are significantly extended.
A large vegetation net inserted horizontally directly underneath the roof ball
conducts air
& water like a distribution net 3 capillary in width and serves as additional storage. This improves root growth in depth and increases the stability of the tree.
For new plantings we recommend a combination of vegetation net with the distribution net.
With the large-area LITE-NET tree pit nets 3, even the roots of already grown trees are permanently supplied with air & water.
The LITE-NET for trees comes in 3 materials, either permanent or biodegradable. The nets are available prefabricated for standard sizes (LITE-NET treeL + XL) or in rolls.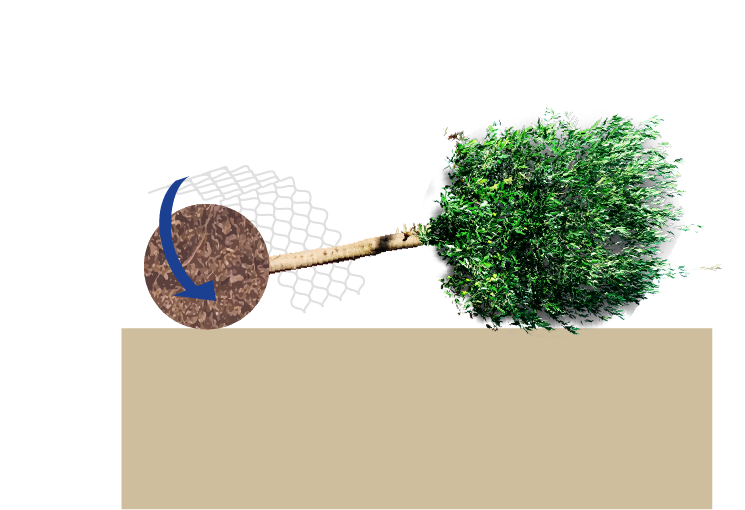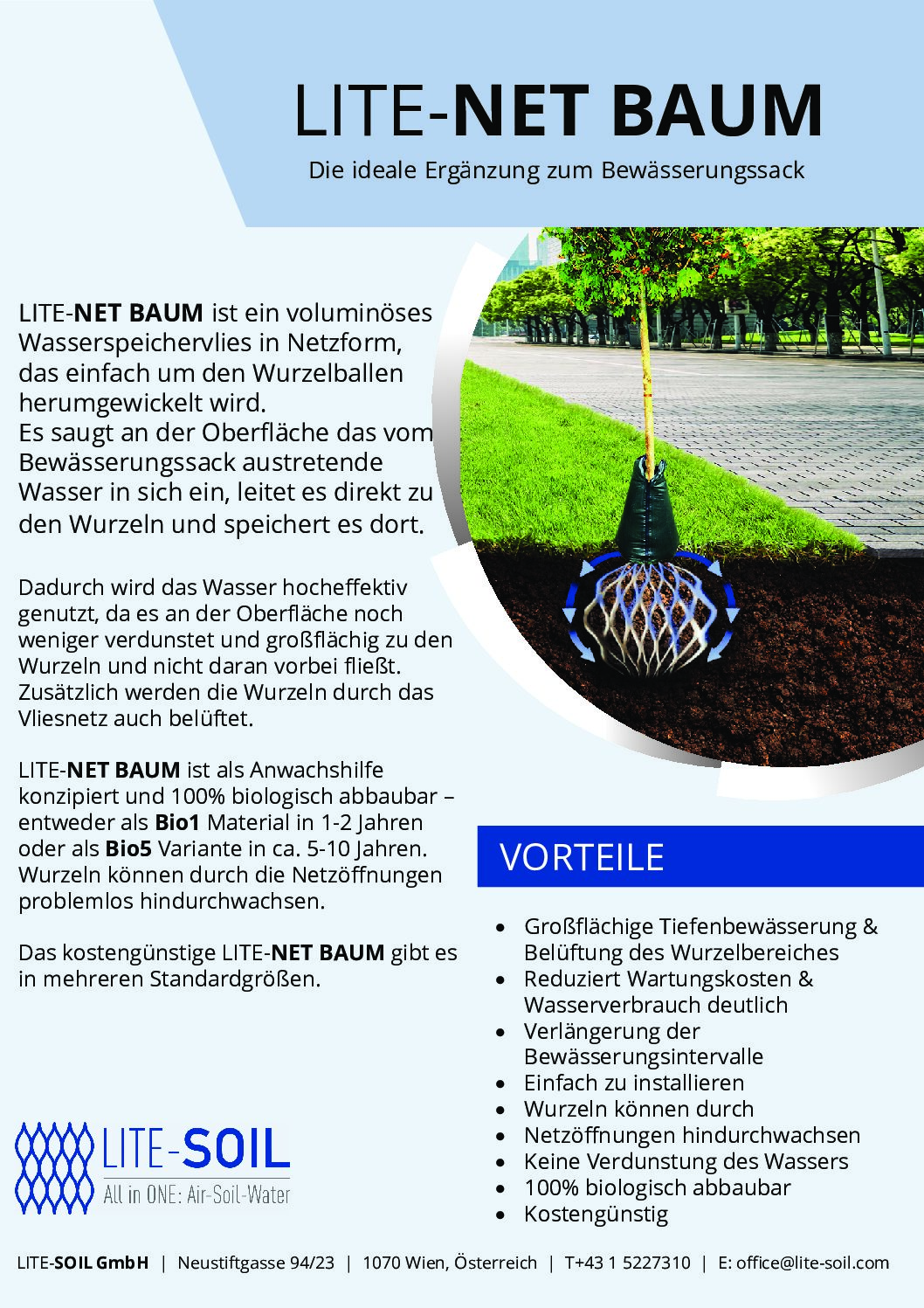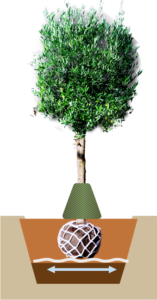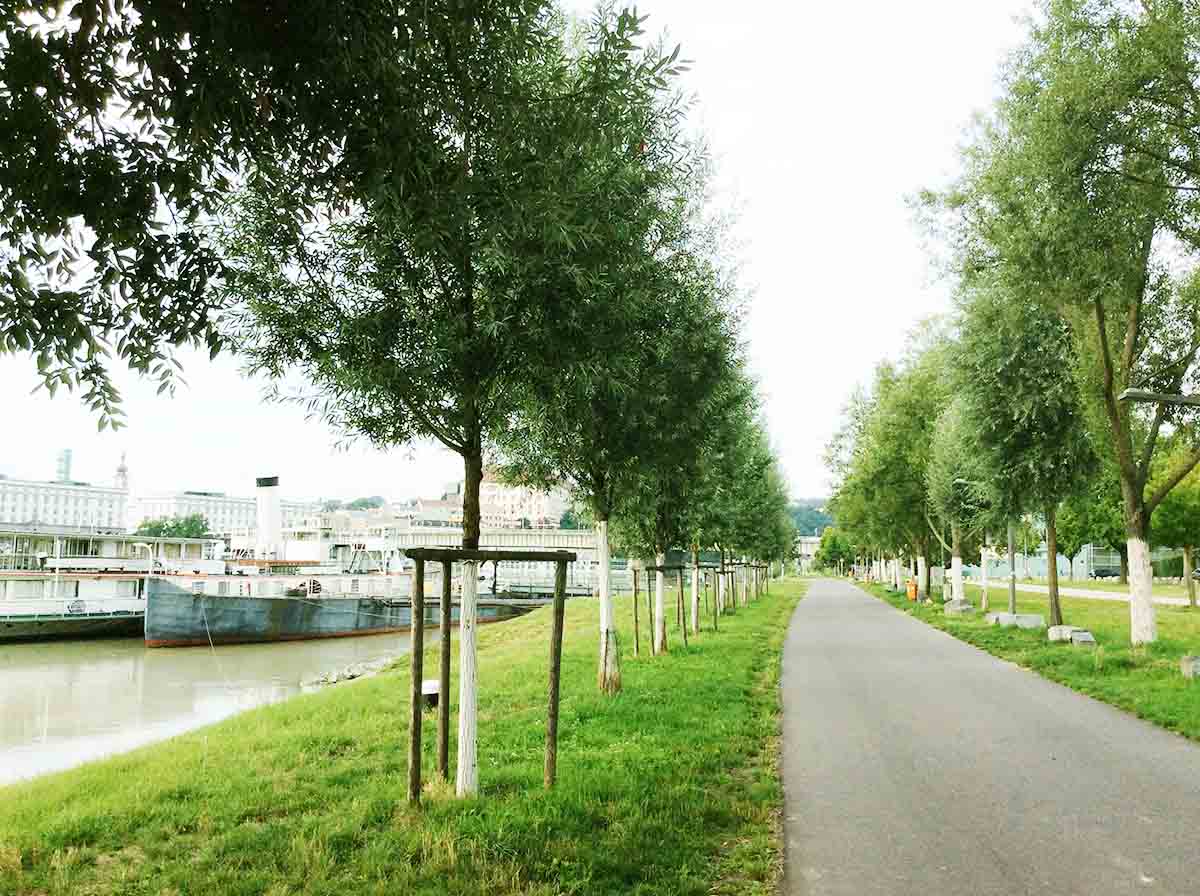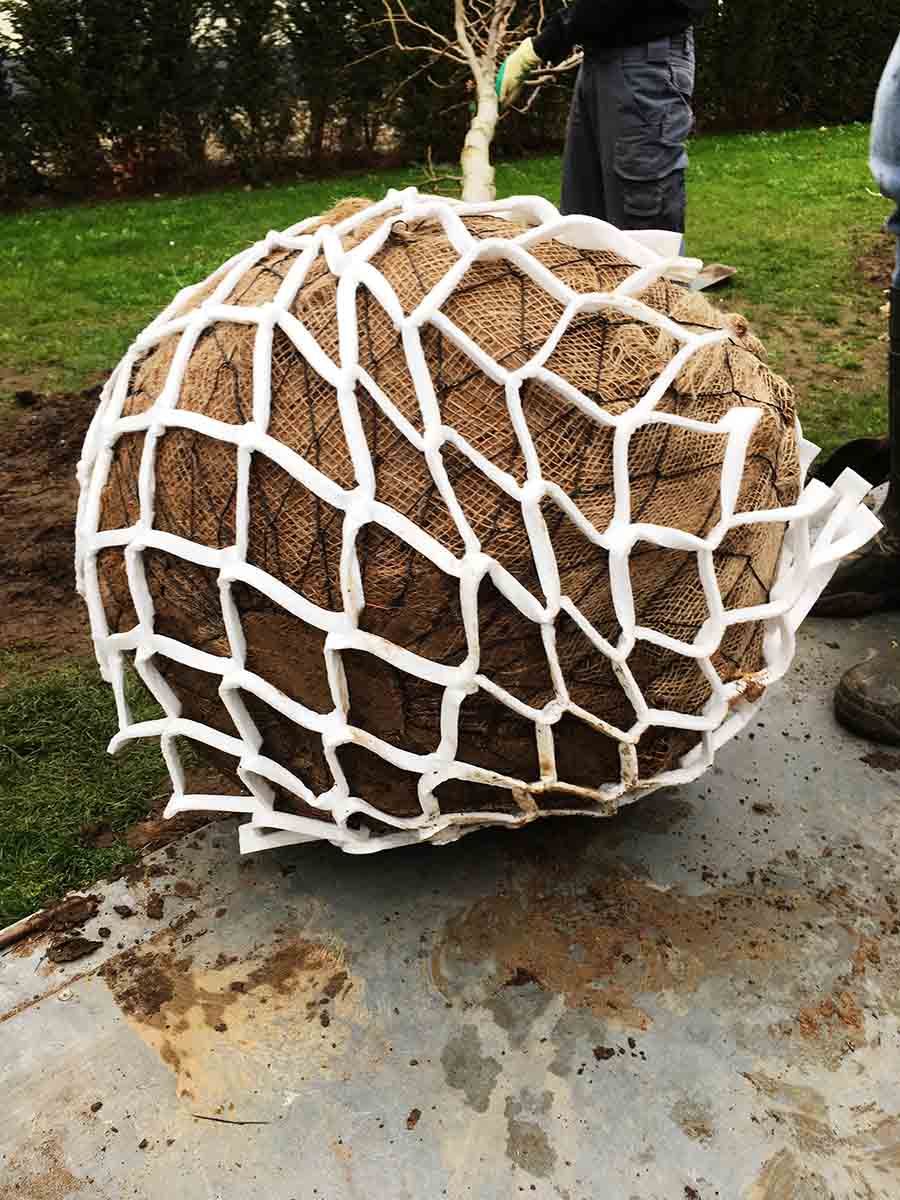 LITE-STRIPS: Substrate improvement with water reservoirs close to the roots
It is recommended to mix about 10-20 l of LITE-STRIPS into the substrate close to the roots per new planting, preferably in combination with a LITE- NET vegetation net. LITE-STRIPS LITE-STRIPS consist of up to 90% open, interconnected voids in which water is stored on site. They increase the water storage capacity and the permeability of the substrate.
The novel BLUELITE-NET system is perfect for automatic and cost-saving watering of trees. To do this, a nonwoven-protected irrigation hose is usually routed underground around the trunk and connected to a spur line.
The stable and voluminous nonwoven sheathing protects the irrigation hose against clogging by fine particles or root ingrowth. In addition, the UV-stabilized nonwoven cover mechanically reinforces against vandalism and distributes irrigation water evenly.
For new plantings, BLUELITE-RING in combination with a LITE-NET vegetation net, for existing trees without.

Additional products: LITE-ROOTPROTECT, the biodegradable root protection, SALFIX–MAT, protection against road salt.
LITE-SOIL as a

thirst quencher for trees